My recollections of Keith Floyd
This page consists of some semi-edited youtube comments from under the following video. In 2022, I watched most of Keith Floyd's old TV shows out of interest, having known him when alive. I reviewed them for IMDB, and the reviews are gone from there but are now on this site.
I thought the first two series, Floyd on Fish, and Floyd on Food, were actually very good, despite being rather low budget, but then the quality of his series dropped off a lot.
The reason I knew Keith Floyd was that my father was quite friendly with him in the 1970s and 1980s, and we saw a lot of him. The first time I met Keith was in the south of France around the 1970s. I remember that we had takeaway pizza at some kind of wine bar, and I had a diary entry in my "holiday diary" which consisted of remarks about the large amounts of wine which Keith and my father drank. He was also one of Keith's 500-pound people, who paid Keith 500 pounds loan to open the restaurant in Chandos Road, to be paid back in meals eaten, and according to one of Keith's autobiographies my father had done some work fitting out his early restaurants.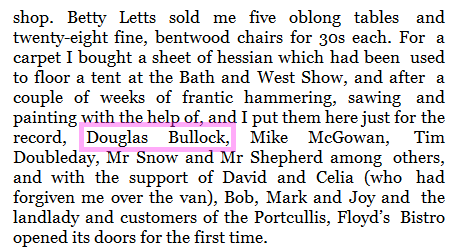 Keith could be exactly as unpleasant as you see him being on the "Keith meets Keith" programme when he was in his thirties, before he'd ever been on TV, and before he got ill. It was just not recorded on camera anywhere before this. I had this kind of experience with him several times. He'd be quite jovial and charming, like "TV Keith" and then suddenly the wind changed or something, and he turned into "extremely unpleasant Keith". I never saw Keith go from unpleasant Keith back to jovial Keith though. Some of his obituaries mentioned his mood swings. See this Keith Floyd obituary at The Guardian for example.
One conversation with Keith I remember things turning sour mid-conversation. He started off in a very jovial tone saying "Ben, I will cook you anything you want. Just tell me what you want and I'll cook it for you!" I made the grevious error of telling him I wanted Greek meatballs, and the winds of change started blowing, and Keith's face darkened, he scowled and made a sideways look of disgust and contempt, and muttered "I'm not going to make meatballs for you". Anyway, later on, after Keith was famous, I had a look through his one of his cookbooks, and was not too surprised to find a recipe for the despised meatballs in there.
The singalongs in the "Keith meets Keith" video remind me of what we used to see at Keith's place on Chandos Road in Bristol. Keith loved singing songs with his son, who was about four or five I think. I remember the two of them singing "High Hopes" by Frank Sinatra.
We had any number of meals at Keith's restaurant, and I thought the food was awful. The dish I remember as a low point was a badly cooked, stringy piece of rabbit with a cloying, very thick wine sauce. It was so bad that I could hardly eat any of it.
I didn't watch Keith's cookery shows when they were first broadcast, but when I watched them recently, I didn't see anything which looked like exceptional cooking skill. At the time we knew Keith, I'd hear people calling him "the maestro" or something, and some people seemed very enthusiastic, but not everybody. My father had his wedding reception in Keith's restaurant, and my father's second wife, Jackie, actually cooked and brought trays of vol-au-vents to her own wedding reception. She evidently didn't trust Keith to prepare it. I remember that all Keith had done for the wedding reception was to line up a few bottles and a few bowls of olives.
But many people rated Keith's cooking highly. Before he was famous Keith wrote a cookbook called "Floyd's food", and Leonard Rossiter (the actor who played Reginald Perrin) wrote the introduction, on the basis that Rossiter was coming to his restaurant so often. My father was friends with Keith at the time and he put loads of copies of "Floyd's food" on display at the counter of his shop.
Polly, Keith's daughter, says in the Keith meets Keith video that she hadn't talked to him for ten years. My father said he was an amazing improvisational cook, and helped Keith in various ways, but he fell afoul of Keith in some way or another and they ended up not speaking.
I believe David Pritchard actually asked Keith to be on TV after seeing him throw out some customers from the restaurant on Chandos Road, so he possibly chose Keith because he wanted someone who was a bit controversial or confrontational.
---