Memories by Phyllis Bullock
This page is an online reconstruction of some recollections of my paternal grandmother, Phyllis Bullock. The original document was a loose-leaf collection of word-processed pages with some family photographs I had never seen. This document was sent to me by my now-deceased aunt, also named Phyllis, some years ago. The text is transcribed more or less as-is but with some punctuation and spelling corrections (Murree instead of Murray, etc.), paragraphing, and asides added. Other than that, I've tried to keep all the words within the horizontal lines as my grandmother's, and I've also added some notes at the end.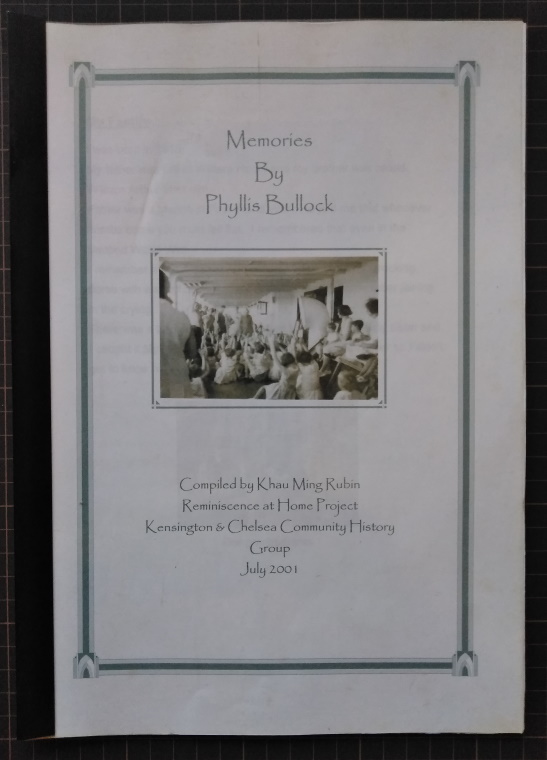 ---
Memories By Phyllis Bullock
Compiled by Khau Ming Rubin
Reminiscence at Home Project
Kensington & Chelsea Community History Group[1]
July 2001
My family
I was born in 1910. My father was called William Henry and my brother was called William Arthur after him.[2]
Father was a marine in the First World War. He told me that whenever bombs come you must fall flat. I remembered that even in the Second World War. I remember my first day at school when I was put onto a rocking horse with a small boy, also new, who was crying. I remember joining in the crying.
There was a terrible flu epidemic when I was small and my sister and I caught it. My brother was sent to live with my grandmother so I didn't get to know him very well.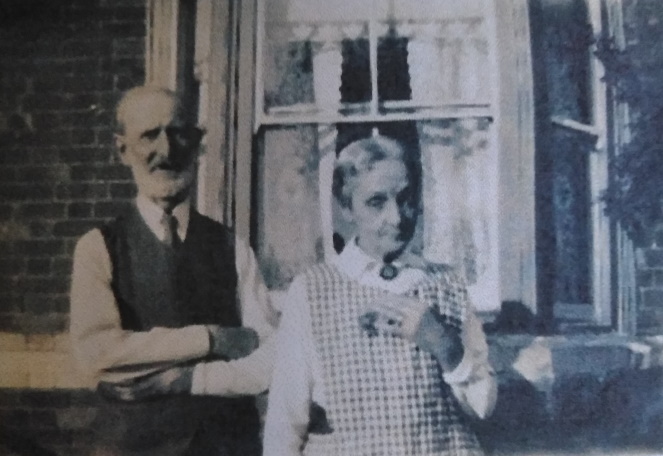 There were four girls in our family and I was the third.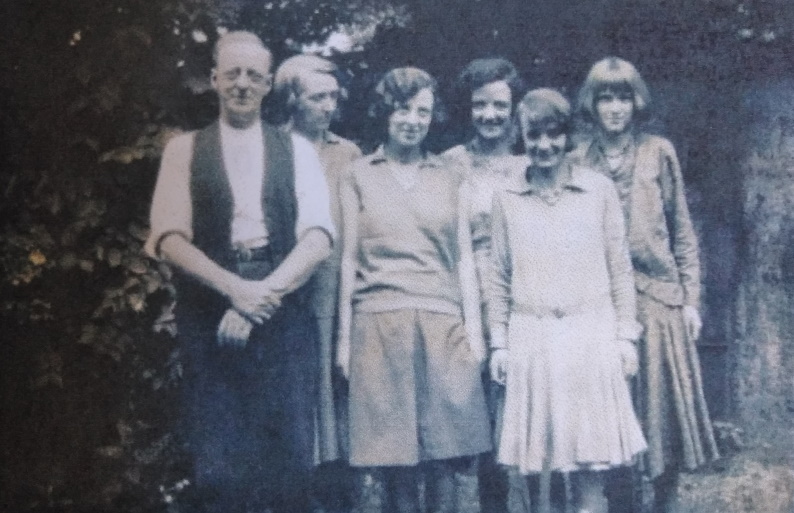 Mother didn't go out to work. She left father and went to Cliftonville, Margate.[4] I remember seeing the guests in the Margate hotels in those days. They used to dress up for dinner, the hotels were very smart. When I was allowed to go out in the evening by mother I could see into all the dining rooms of these hotels as they were lit up, and I saw all the people in evening dress.
I went to school in Margate, I really liked it there. Mother was very proud of me because I was slightly ahead of the other children in class at Margate.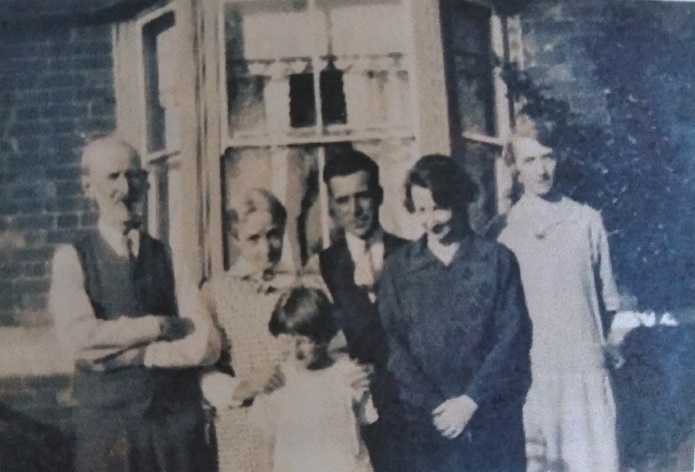 I had been to another school before we moved down to Margate and I think I was put in a higher class because of that. Some days two classes ran in the same schoolroom, with just a curtain between the two groups. I used to listen in on the other class and could hear that they had more difficult maths to do. Maybe this is why I decided to leave school and earn some money to help out my mother who had four children to look after on her own. I left school when I was about thirteen and a half. I was only at school until Standard Five.[6]
I took myself off to find a job aged thirteen and a half. I didn't tell mother until I had it as I was supposed to be at school. I thought I could help her out all alone with 3 children to look after and that it would save her feeding me. To find a job I looked in the local newspaper. I found a family advertising that needed some help to look after their children while they came to the sea for their holidays. I waited outside the house where the family lived. Lots of other girls were there too so I decided to not hang around with all this competition and I went and rang the bell at the front door. I got the job ahead of the others!
By the time I left school my eldest sister Hilda[7] was already working for the Guinness family as lady's maid and Doris[8], who is three years older than me, was working as scullery maid to Lady Lawrence, following in the footsteps of our grandmother who had also worked for a previous Lady Lawrence.
I liked working with the children and decided that I would like to be a Nanny and went to train with a family in Kensington. I was trained under Nanny Shinn.
Nanny Shinn on retirement came to live here in the Harrison Homes[9] before the modernisation, where her bed-sitter was is now the sitting room of my flat. I learnt a lot from Nanny Shinn but the family we were employed by split up and as I was still determined to travel I took what was supposed to be a temporary job through an agency. From being very young I always wanted to travel. I was employed by the grandmother of the family for the short time her daughter, Mrs. Grant, was in London on leave from India where her husband was an officer in the Indian Army.
Mrs. Grant and I got on so well that when she was returning to India she asked if I would travel out with her to help look after two year old Heather on the three week journey to India.[10]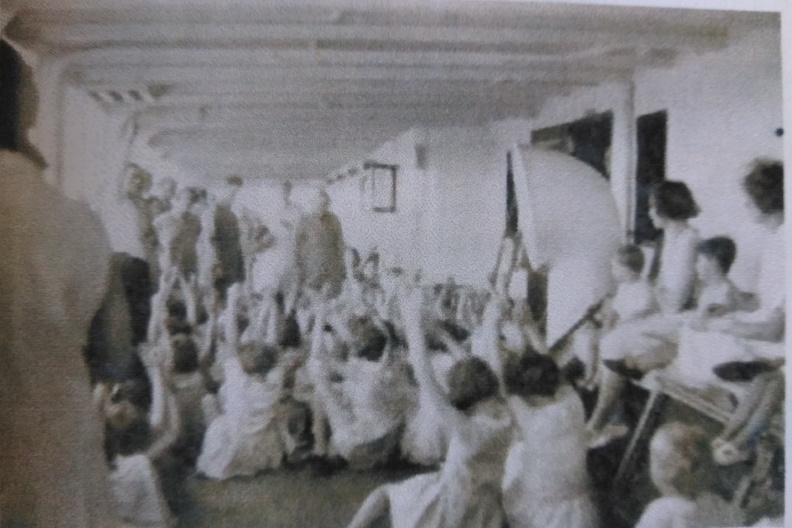 Life in India
We moved into a bungalow in Officers quarters.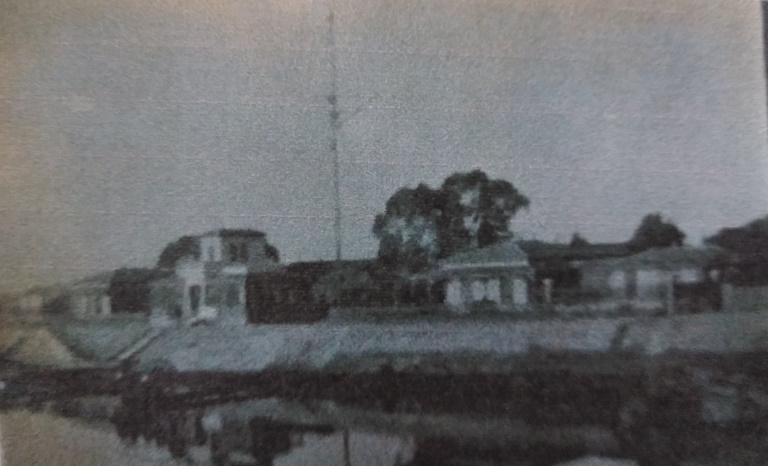 I enjoyed my time with Heather, although her mother and father had terrible rows which could be heard throughout the house. I went to dances at the Sergeants' Mess where we danced on flooring laid over the tennis courts.
It was at a dance that I met my future husband.[11]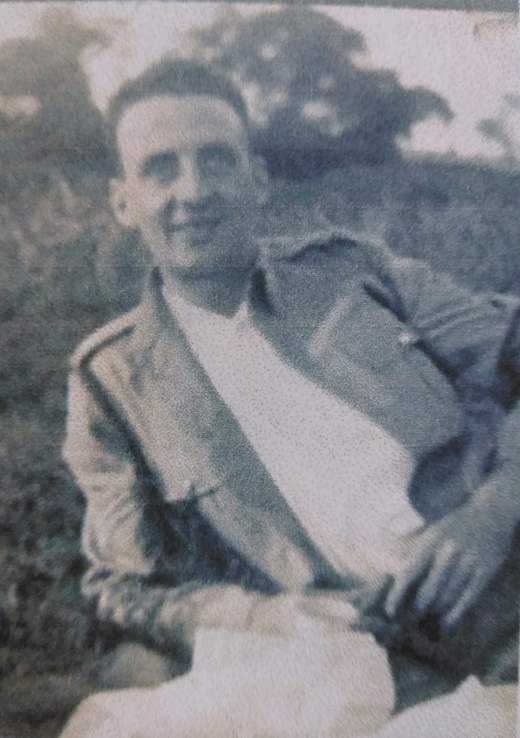 He was the youngest Sergeant in the British Army in India and fluent in many languages. He had taught himself Urdu to enable him to speak with the native soldiers.[13]
When I first met him he couldn't dance. Mrs. Grant said "Why don't you ever go out to any dances?' When I told her that my boyfriend couldn't dance she said 'You can invite him here when we go out to a dance and teach him!" So I did. I taught him to dance the foxtrot and the waltz.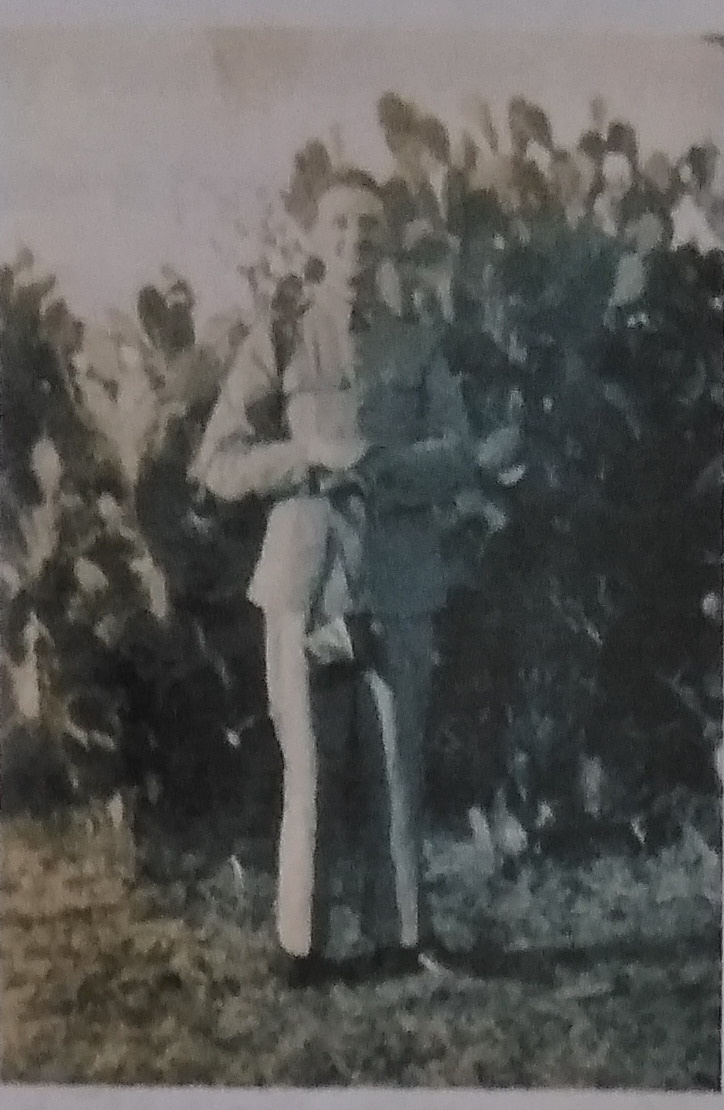 I kept time waving my hand in the air. I don't think we ever danced to any music though. When he had mastered a few steps he thought I should only dance with him. Well, I put him right about that!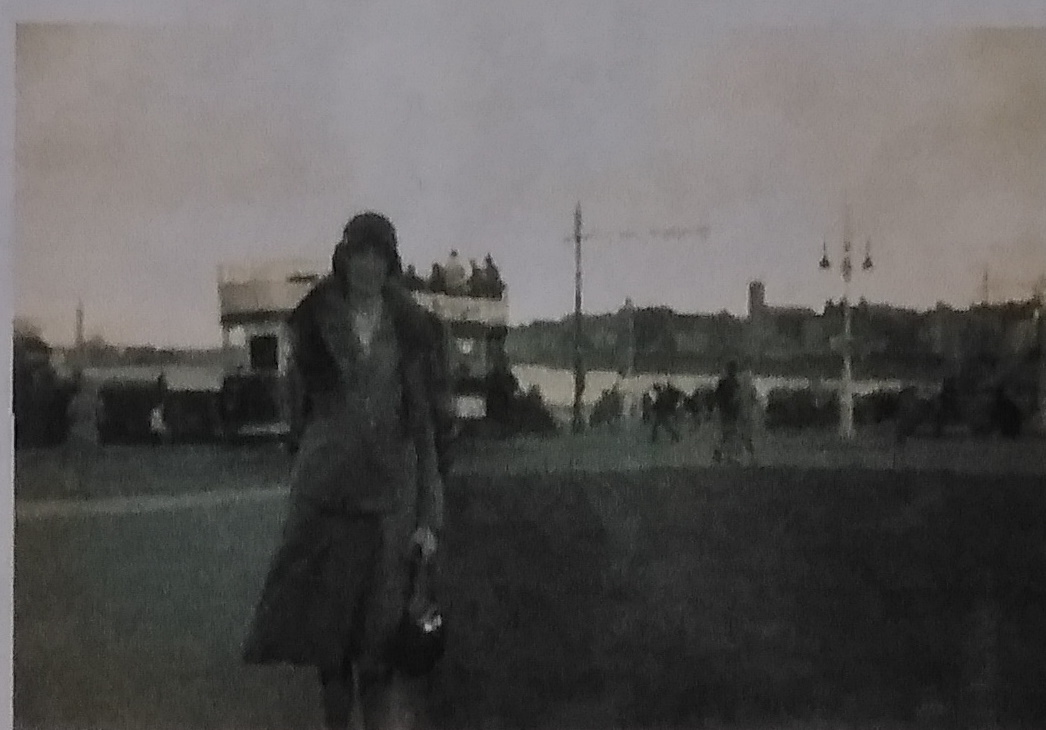 I had some nice dresses to wear to the dances out in India. My sister used to send them out to me. Some she got from the young girls where she worked as a maid. The girls were given an allowance by their father, but managed to spend most of it on betting with their brothers on the horses. When they became short of money they would sell off some of their dresses to my sister, who would in turn send them out to me. My sister Hilda was a very good seamstress. She had a friend who was a buyer at Selfridges, and when he got sample dresses in from Paris he would call her up and she would pop over and have a look at these dresses before he sent them back. She was then able to copy the style she had seen. That was how she made my wedding dress.
I used to love going to the cinema when I lived in India before my marriage in the town of Kirkee, about three and a half miles from Poona. If you went to the "second house", which was only for Europeans and well-to-do Indians, films would start at 10:00 p.m. when the night got cooler.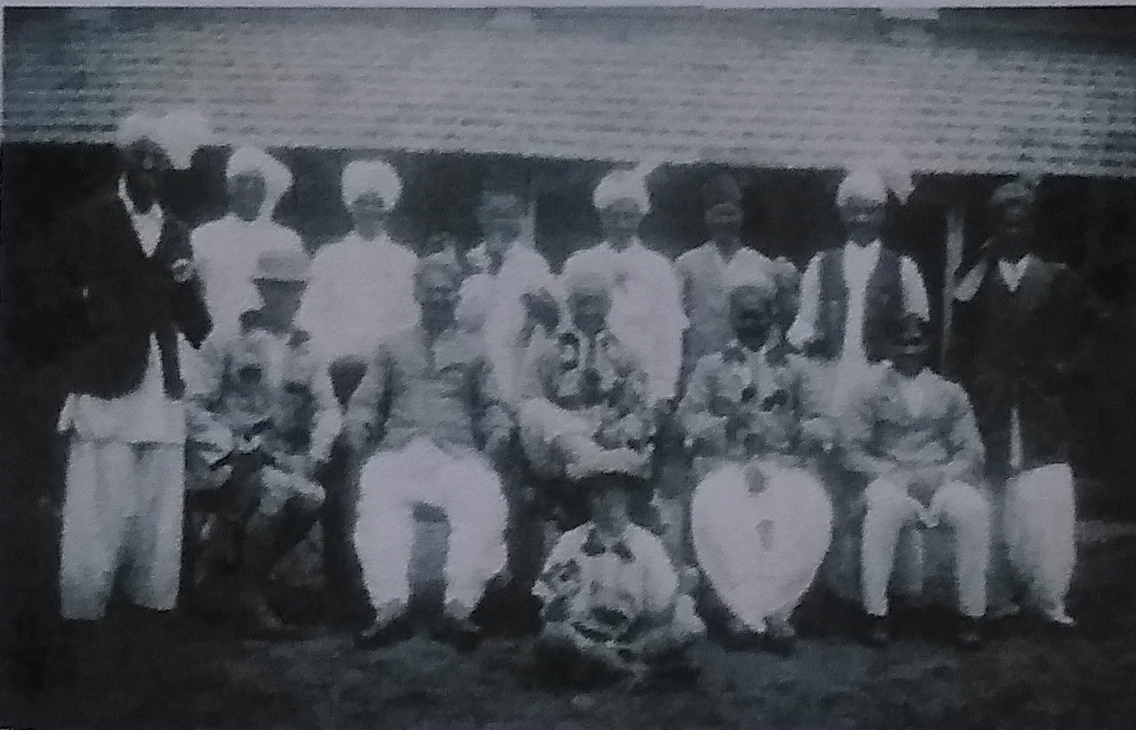 After two years I decided to leave the Grants and return home to England to prepare for my marriage. I found another Officer's wife coming home to the England who wanted help with her little boy of two for the journey home to Southampton, where I started to make plans for my wedding.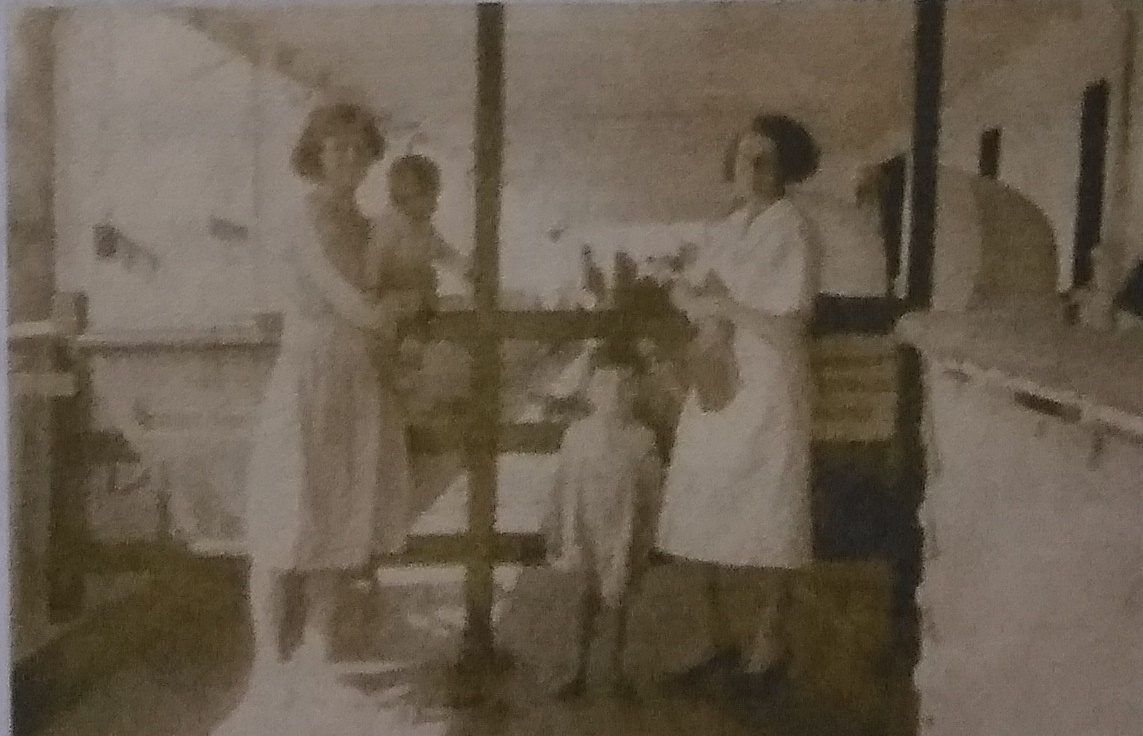 Mrs. Grant returned soon after me and I went back to work for her in England while my sister Hilda, the marvellous seamstress, made my wedding dress. It was not the traditional white but pale peach chiffon over a deeper peach silk slip.[16] When it was finished I packed it up ready for my return to India.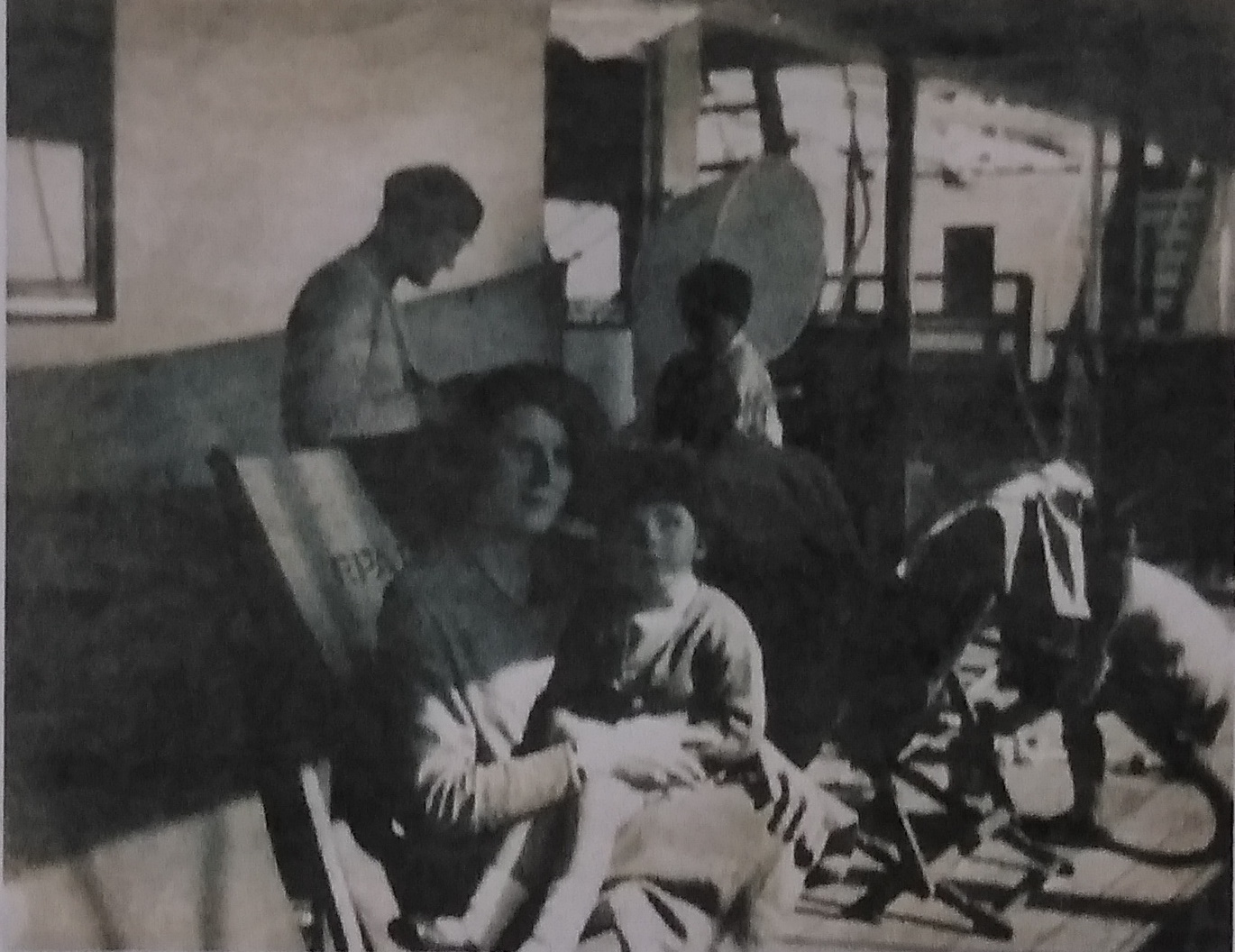 To enable me to travel for free I advertised for someone who was returning on the first troopship to India who needed help with their children for the journey.
As soon as my passage was fixed on the SS Lancashire, I wrote to my husband to be and he was waiting for my on our arrival in Bombay where I greeted him with 'Do we or don't we do the deed?' He looked very shocked at this but managed to say 'Yes'. We were married in Bombay Cathedral on the day of my arrival and I had invited a couple of my fellow passengers to join us for the lunch that followed.[18] This wasn't a very good idea as I hadn't thought about the expense.
Family Life in India
We started married life in quarters in Kirkee some three miles from Poona, living in a bungalow with a cookhouse at the rear shared with our neighbour.
Later we lived in a tribal area called Kohat, near the North West Frontier and not far from Peshawar.
While we lived within the army compound we had to get back inside before sunset, as the gates were closed between sunset and sunrise. I liked it better up north near the Khyber Pass. It seemed more exciting.[19] The station where we lived had a gate that opened at sunrise and closed at sunset. There was a fort nearby. The master gunner in charge of the fort and his wife were the only Europeans living there. I used to visit and had coffee with the wife.
Europeans ate what they ate here, western food. I only had curry once. It gave me a tummy ache and I never ate it again. Most Europeans had European food. Only occasionally at tiffin lunches there would be curry dishes.
The meat ration was so tough the only thing to do with it was mince it.
When it was time for us to leave India, we had a beautiful teak dining table that we couldn't take with us. It was too big and we didn't know where we'd be settling in England. I had my last meal in India on that table and we sold it to the master gunner and his wife.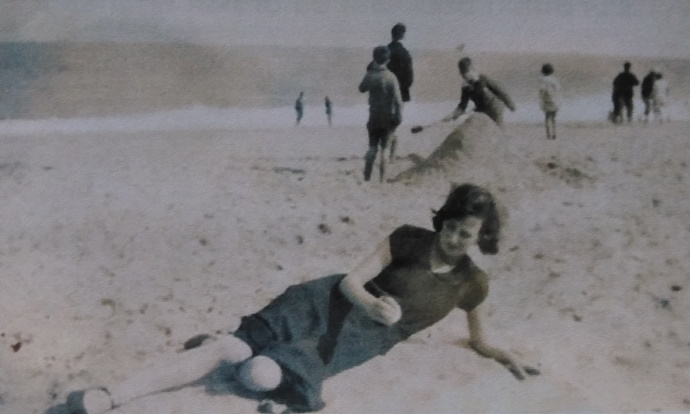 This is a photo of a sister of my husband lying on the sands at the beach in England.
She was unwell in England but her illness was not told to her brother, my husband, in India. After her sudden death, my husband received the bill for her funeral and a huge shock. He was much "altered" after that experience.
During the hot weather the wives and children were sent to the Murree Hills. My son Douglas was born while I was there one June. Our bearer, who idolised him, would spend hours picking up any toys he threw from his pram.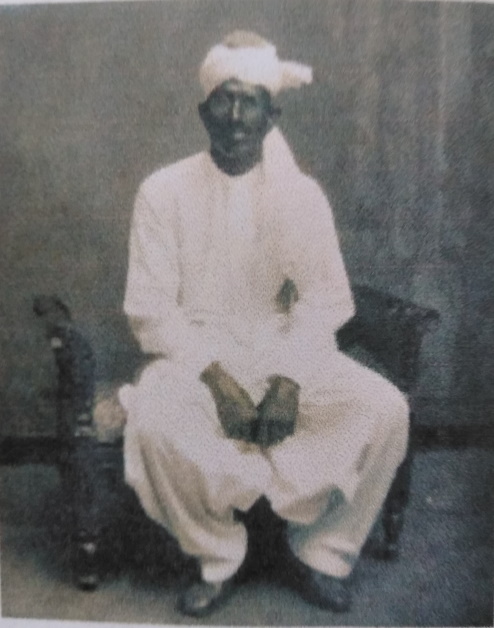 The bearer told me that if I had another baby he would look after Douglas for me. When Douglas was still very small my husband visited the dentist to have some teeth extracted. After this he developed an infection that meant he had to be invalided home to an Army hospital at Netley near Southampton.[20]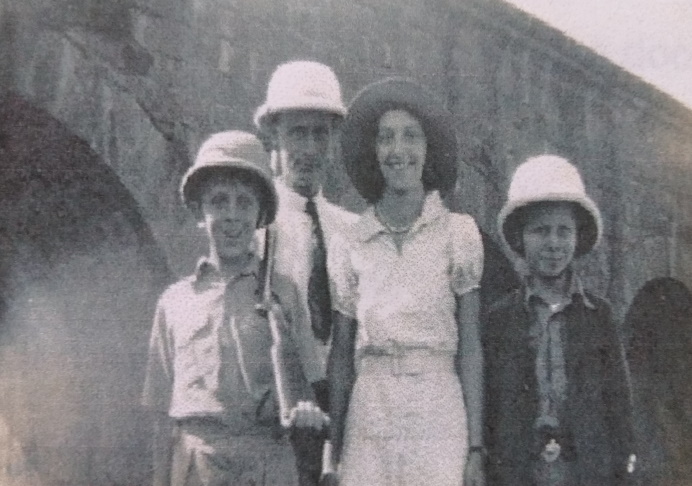 The man in this photo was best man in my wedding.
He had a terrible shock. He came back from England to find his wife dead and buried. He was left with three children, two boys, in the photo with their father, and a four-year old girl. The boys were sent to boarding school. They only came home during school holidays. The little girl stayed with an ayah who could not chastise her and had no control over her.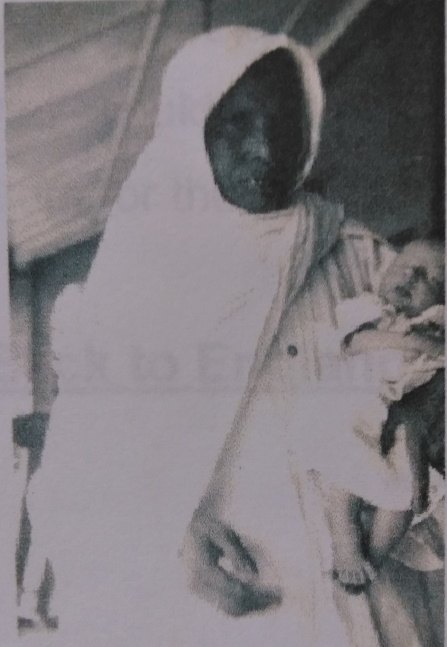 So the girl would just turn up anywhere. In those days you didn't lock your doors. I would open the door and suddenly there she was in my house, doing anything that she fancied. I once put her in the linen basket to scare her but she kept coming back. The childless wife of another sergeant major took her in but couldn't control her and had to give her up. The girl would be found at a tennis court kicking at people's shins while her father was playing tennis. I once took her aside to tell her to behave, but all to no effect.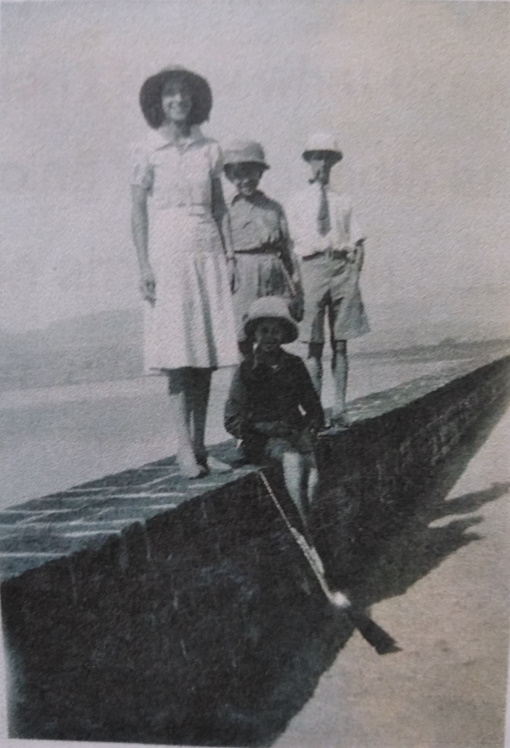 This photo was taken during a picnic and the girl in the picture is the daughter of another sergeant.
This is wearing a tura, a hat made from double layers of felt. The boys are wearing topees which were more expensive and provided better protection from the sun. Looking back, I now realise that I could've bought two turais from local Kensington High Street store for the price of one topee.
Back to England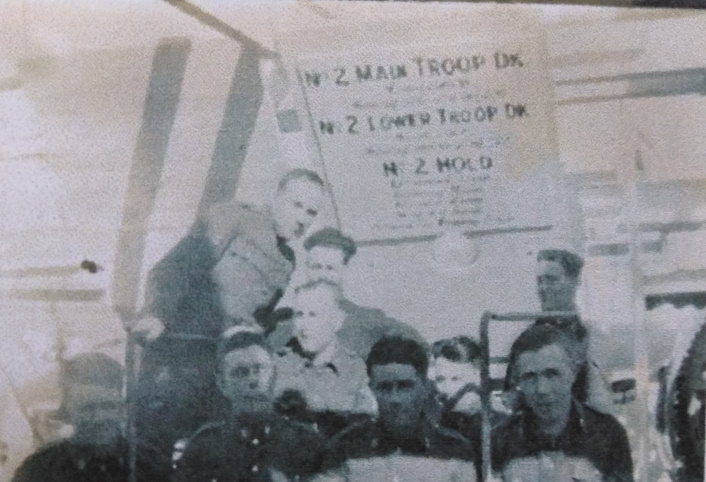 We were at sea for three weeks travelling from India to Southampton. Douglas was teething and the only way to get any laundry done on board the troop ship was to get up very early in the morning long before anyone else was stirring. My husband was on sick leave. We had no plans for our future and didn't know what to expect. But I had the feeling that we wouldn't be going back to India any more, but I never told this to my husband.
On arrival back in Southampton all our belongings were unloaded from the ship but there were no arrangements made for the care of myself and the baby. My husband suddenly got called away, he came back looking white, saying that he'd got to go to a military hospital in Netley.[21]
Meantime, sometime during the voyage, my husband's people had moved house. We had had no means of communication. I had no where they'd moved to. I saw my husband hurried off the ship with belongings that should have been left with me and our then nine-month old baby. It was a time of utter confusion and uncertainty. I sent a telegram to my sister Hilda who was a lady's maid. She managed to find me a room in a tall house in Kensington, where I had to carry my son with me two flights down the stairs to go to the toilet. Because he was into everything and there was no way to tie him safely down in that flat.
My sister didn't know that my husband wasn't going to be with me and the baby. We only stayed there one night. The next day I went to find my husband's people. I found my husband's sister. She took us to her father and step-mother. I was so tired. I can't remember how many buses I got on to get there. But you just got on with it. I remember carying my son passing two elderly men who said that "they get heavier as they get older". I was so exhausted. I just passed over the baby when we finally got to my in-laws's house in Ilford, Essex.
---
This is the end of the document. I do know that during the second world war, my grandmother worked as a surgical assistant. My grandfather was employed by a hospital in some capacity until his retirement. As mentioned in the notes, my grandmother took part in various campaigns including trying to reform the British Legion, and she also took part in the 1950s and 1960s Aldermaston marches to "Ban the Bomb". Unfortunately I have no records of her later life, although she did once show me a photo of her at an Aldermaston march.
On a personal note, as I've mentioned in another page, I grew up with a single mother who had some "issues". Apparently my aunt and grandmother had been extremely upset by my mother, ending up in tears about it, and to try to help me get away for a bit, they would very frequently invite me to see them in London, where I stayed in the guest room of the Harrison Homes. Thus I would hear a lot of stories about my grandmother's time in India, among other things. However, since she tended to focus on stories about coincidences, and she would often repeat the same stories over and over again, this document was the first time I'd really heard her life story in a coherent way.
One story she used to repeat a lot was the time that she rode pillion on a motorcycle, and asked the rider if it couldn't go faster, apparently causing offence since he was very proud of its speed. Another story she told me any number of times was the time she punched a footman and knocked him over after he had said something rude to her. Unfortunately she refused to say what the footman had said which caused the punch-up.
---
Notes
This is a discontinued charity. I am fairly sure that this document was transcribed from a tape recording, rather than being written by my grandmother herself. I'm not sure whether there was any intention of publishing these documents. The organisation itself seems to have folded, and there is no record online of any of their output documents appearing in print.
My grandmother's maiden name was "Roffee", pronounced to rhyme with coffee.
I'm not sure but I think these are from left to right Doris, Hilda, Edna, and Phyllis. Apparently at one point Phyllis and either Doris or Hilda had both gone to Elstree Studios to try out the auditions to become film stars, unfortunately without success. My grandmother had a "film star"-like portrait photo taken at the time, which she may have been too embarrassed to show the author of this document. My aunt, her daughter, had a career as a repertory actress under the stage name "Phyllis Kenny".
This part of the story seems to have been skipped over. My grandmother often told me that her father would tell her "you should have been put down at birth", so he doesn't sound very kind-hearted.
I think Phyllis is the girl at the front. The other people appear to be the grandparents, Phyllis's father and mother, and possibly her aunt.
My grandmother was not very highly educated. As a "ban the bomb" campaigner, she objected to atoms, because they were used to make atom bombs. But she was very fond of watching "Mastermind", and I suspect I greatly annoyed her by answering too many of the questions out loud.
Hilda Roffee remained unmarried to the end of her life, and worked as a "lady's companion". When I was a child Hilda was already retired, and living in Hampstead Garden Suburb. She passed away in the 1980s.
Doris married a man called Eric, whose surname I do not know, but they had no children. Doris also lived in the Harrison Homes after Eric passed on. My grandmother, although she had invited Doris to live there, tended to find fault with others, and would frequently chastise Doris.
My grandmother lived in the Harrison Homes at 42-46 St James Gardens near Holland Park tube station. This was originally a retirement home for people who had worked as servants.
My grandmother referred to locations in "India" throughout her life, rather than Pakistan. When I was required to write my father's place of birth for my passport I used to write Murree, India, not realising it was now in Pakistan. However, many of the locations in this document are now part of Pakistan rather than modern-day India.
Phyllis's future husband was Albert Bullock, my grandfather, who came from the Bethnal Green area of London. Albert was a cockney, born within earshot of Bow Bells. Although supposedly army sergeants are notorious for shouting abuse at raw recruits, my grandmother told me several times that although she might say "dam the rivers and blast the mountains" if she struck her finger, not once did she ever hear him utter a curse or a swear word. Albert died in 1979.
The original photograph in the document is just as blurry, but sergeant's stripes can just be made out on his right arm.
My grandmother doesn't mention it in this recollection, but she often mentioned that Albert had passed a higher grade of examination in Urdu than his commanding officer, and was considered likely to be commissioned through the ranks. However, he contracted tuberculosis, which was then incurable, and had to leave the army. During his later life, he carried on learning languages, obtaining an O-level in German in his sixties before travelling to Germany. My grandmother had left him in the 1960s, after deciding that she couldn't put up with "it" any longer. She did not say what "it" was, but I have heard that my father suspected that his father had bipolar disorder. My aunt mentioned that he was very prone to picking on my father when he was a child. As for me, he used to slip me pound notes when nobody was looking, but I never had very much conversation with the man or got to know him very well.
The reproduction of the photo is very blurred in the original document, so the face cannot be made out at all, but presumably this is Phyllis.
The original photo is very blurred, but the woman on the right may be Phyllis. The woman on the left is unknown but definitely not Phyllis.
My grandmother doesn't mention it here, but she had a non-white dress made so that she could use it at dances, since she noticed that many of the women at the dances she attended in India were wearing what looked like their wedding dresses.
This is clearly Phyllis, holding an unnamed child.
My aunt, who was into Indian guru Sathya Sai Baba, later visited Bombay Cathedral and found their names in the marriage records.
According to stories my grandmother told me, my grandfather's work involved patrolling the borders with Afghanistan, which was accompanied by some danger of being shot at.
My grandfather was invalided out of the army due to tuberculosis at this point. My grandparents lived in the British Legion Village near Maidstone in Kent for some time. There was much discontent in my family about the running of the British Legion, to the extent that nobody would wear a poppy. My grandmother explained it to me at one time, and I remember thinking it sounded pretty bad, but I do not recollect any of the details, except that it involved financial irregularities. This was in the 1950s, and I trust the problems are all resolved now.
The original document says "Wedley" here, but there is no such place in the UK and Netley is mentioned above so I've changed it to "Netley".
---